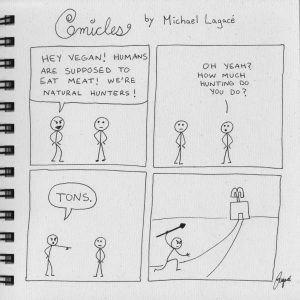 Believe it or not, eating wasn't always as easy as going to a restaurant and picking something from the menu. In fact, there was a time when humans didn't even have grocery stores! Yes, I know it's hard to believe while sitting in front of your computer only steps away from your refrigerator, but it's true.
Popular science has a fairly convincing timeline that, for humans, begins around when we started to create tools to obtain food. We used these tools for hunting, foraging, and of course primitive fondue parties. As our tools became more sophisticated, our agrarian civilizations began. Fast forward several thousand years and we can barely recognize ourselves as coming from such hard-working ancestors as those. Today life is so much different that given the same tools that were available back then, most of us probably wouldn't survive a week.
Despite this, some people assert that humans are natural predators, which is often used to justify modern non-predatorial eating habits. I used this argument too when I was an omnivore, even though I rarely ate the animals that I killed. Nowadays, I tend to believe that humans used to be natural predators, but if we actually had to hunt again, I don't think it would come naturally. We might know what to do, but actually doing it well enough to survive is a different matter indeed. These days the most fighting we do for food is over the last slice of pizza.
Regardless of the few physical characteristics that might put humans in the 'predator' category, I think it's pretty obvious that ordering a hamburger isn't the same as tracking a cow by smell and ripping her apart with your teeth. We might like to think of ourselves as the superior species at the top of our food chain, but perhaps it would be more accurate to use our current habits to define ourselves now: former predators (once removed) whose diets revolve around the weekly value menu and marketing. Oh, and whatever Oprah's eating.