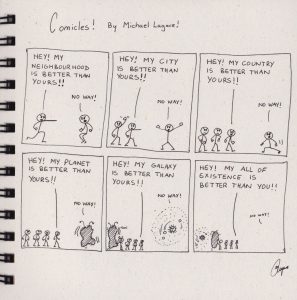 Before humans came along, borders of course did not exist. We made them up. And when we did, the land didn't change, the air didn't change… nothing changed except us. We started to believe that our invisible lines were better than anyone else's. And this lead to many intense rivalries between people on different sides of these silly invisible lines. So with that, today's word of the day is:
Patriotism (noun): the belief that the invisible boundary surrounding the relative place of your birth is somehow superior to everywhere else. (Similar to the my-dad-can-beat-up-your-dad phenomenon.)
Really, people, can't we all just be buddies?
Note: this Comicle is presented in fabulous black and white so you can colour outside the lines! Fun!
Additional note: as has been pointed out to me by Eric — a man who changes his web theme more frequently than I change my socks — I actually defined nationalism, not patriotism. Properly, it should read: "Patriotism (noun): the belief that the invisible boundary surrounding the relative place of your birth is FREAKING AWESOME."