In eighth grade, I was introduced to Spawn and became an immediate fan of its longtime artist Greg Capullo. One day I sent him some character sketches I'd created for my own comic and I asked him to draw a cover for it. If he drew my cover, I added, my friends would definitely buy it.
Two weeks later I got an oversized envelope in the mail. Inside was a completely penciled and inked drawing of my characters Traveler and Shakkle. I was speechless; how many artists would do something so generous?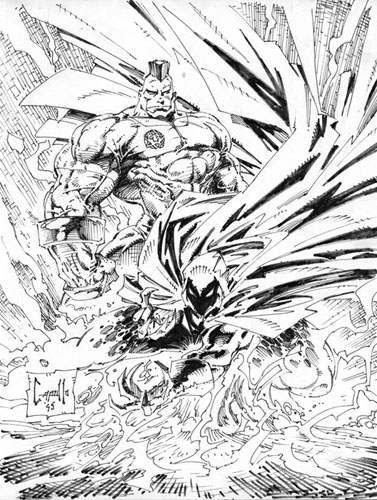 Soon, the drawing had an effect that I hadn't anticipated. With such an incredible cover, my comic had a whole lot to live up to. A cover like this warranted a comic I couldn't deliver. And with that, the project ended. Traveler and Shakkle stayed up on my wall, adored, and I stopped taking comics seriously. I created a silly little series called Stick-Man: The Psycho Hero, a comic of limited quality that took only days to create.
Years later, I decided that Greg's drawing had been done under false pretenses. I felt guiltier and guiltier until one day I sent him a copy of Stick-Man with a note to explain what had happened. That his talent somehow made me lose interest in comics altogether. I didn't understand then that there will always be someone better than you at what you love to do. What's important is to keep doing what you love.