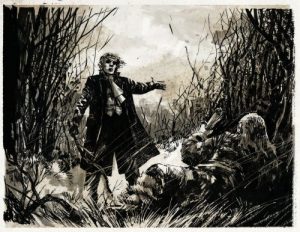 I used to make comics as a kid. Lots of comics. All the time. If I wasn't eating or sleeping, that's what I was doing.
Now that I'm older (or at least taller), I wrote a comic called The Forever Maps and found an amazing artist named Todor Hristov to work with. We pitched it to some publishers, and we even got an offer. Unfortunately, most publishers won't pay the creative team up front to do the work, and the ones that do won't often take chances on up-and-coming creators. Long story short, we decided to do it ourselves; but the truth is, we're not really doing it ourselves, because you can help us!
We are running a campaign for The Forever Maps, and we are hoping that people are intrigued enough to make a pledge towards it. We are not asking for donations; we are asking you to order our graphic novel in advance. The story is about a man, torn between family and immortality, struggling to choose between living forever and having a life worth living. It's unlike anything you've ever read and the artwork is incredible.
If you've never used Kickstarter before, it takes five minutes and a credit card to pledge. It's super easy. Their site is secure and your personal information is never shared with anyone. We have various levels of pledge amounts, and each level will get you different rewards. For only $10 you get a complete digital version of the comic.
When it's done, we will have a product that will help us when approaching publishers with new projects. Once you see what we can do, so will they, and honestly, that will change everything for us!
I used to make comics as a kid, and today, I still want to. So please, if you can spare 5 minutes and 10 dollars, consider spending it on us.
Thank you!
How to use Kickstarter in five easy steps!
1. Click the link to get to our project's home page. Then click the BACK THIS PROJECT button.
2. Select your reward level and the pledge amount will adjust accordingly. Click CONTINUE.
3. Create a Kickstarter account. (You don't need to use your real — or full — name, but your e-mail address has to be correct.) Then click SIGN ME UP.
4. Finally, fill out the payment information using your credit card. This won't be shared with anyone and Kickstarter has a reputation for its strong security. Your credit card will not be charged until the campaign ends, and only if it's successful. Then click PLEDGE.
5. That's it! There's not even a fifth step! (Unless you wanted to spend this time revelling in your generosity and soaking up our gratitude.)