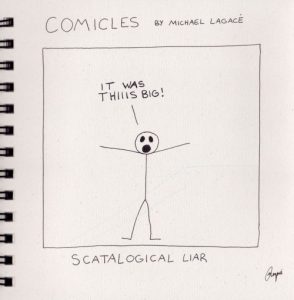 A mildly ironic thing happened while I was showing this Comicle to someone. He stared at it with a tiny grin, not wanting to offend me, nervously laughing. "Ha ha," he said. "It was this big. Very funny."
"Do you get it?" I prodded, fairly certain that he didn't.
"Oh, yeah, I get it. It's funny." A pause. Then he asked, "What does scatalogical mean?"
I told him that it had to do with poo.
"Oh, okay." He kept staring at it, grinning.
"Scatalogical sounds like pathological," I explained.
"Yeah, I know."
A pause.
"A pathological liar is someone who lies all the time," I said.
A pause. "Yeah, I know."
"A scatalogical liar would be someone who lies about poo," I said.
And then a final pause, and a genuine non-nervous laugh, indicating the strong possibility that he did, in fact, get the joke. Maybe now more than ever.
If you got it, great. If you didn't… congratulations, your sense of humour isn't as immature as mine tends to be!